SCIPIO Biofuels
SYSTEMS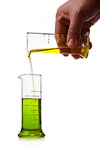 An algae cultivation or biofuel production facility should be designed to take advantage of its physical location and improve the local communities it serves. Our cultivation system is actually a variety of arrays and components that are intended to be custom packaged to suit the site, the climate, and available resources.
Solar Collector:
At Scipio, we use sealed tubes with continuous flow, designed for outdoor operation in a variety of climates. We have designed multiple arrays and can configure our solar collector for use at airports, transportation hubs, farms, or empty desert. Each of our solar collectors includes chemical monitoring, temperature control, light control, and are designed for rapid, modular installation.
Feed stocks:
Florigen Laboratories has custom formulated and "species optimized" feed stocks for Scipio Biofuels. Scipio systems reach their fullest potential for high yield of lipids and healthy robust algae cultures using their products.
Pumps:
Some of our solar collector arrays use one of two patent-pending pumps that are highly efficient, consume little power, and do not damage or scar the algae culture. Our latest generation of solar collector does not require a pump at all.
Harvesters:
Our patent-pending continuous flow harvesters are the best in the business. They select and divert only the most oil-saturated algae from the culture.